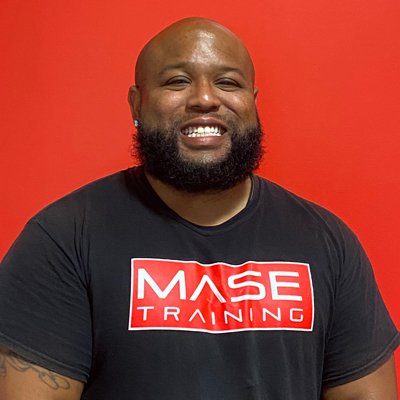 Coach Fred Douglas grew up in Killeen, Texas as a multi-sport star athlete with a love for health and fitness.  Later, he continued his education and sports endeavors at Liberty University.  After college, he played running back and fullback for five years with the Virginia Chargers.  Coach Fred also participated in the NFL Regional Combine in 2013.
After various injuries left him sidelined from playing football, Coach Fred decided to branch out into the world of sports performance coaching.  He began his coaching career as defensive coordinator and strength and conditioning coach at VA Academy in Ashburn, VA.  Under his expertise, Coach Fred helped lead the team to their first national championship.  Due to many years of coaching and mentoring, Coach Fred enjoys being a positive influence to youth, collegiate, and professional athletes looking to take their game to the next level.
Following a battle with depression and anxiety due to severe weight gain,  Coach Fred decided to transform his life through his passion for health and fitness.  He lost 100 pounds over the course of one year.  Passionate about helping others transform their minds, bodies, and spirits, Coach Fred decided to pursue a career in personal training.  He encourages, motivates, and inspires those around him to do more, be more, and aspire for more –  mentally, physically, and spiritually.
He currently holds the following certifications:
•International Sports Sciences Association Certified Fitness Trainer
•Certified Sports Nutrition Specialist
•Certified USA Olympic Weightlifting Coach
Coach Fred currently lives in Northern Virginia and enjoys spending time with his wife, Alesia, and their three children.